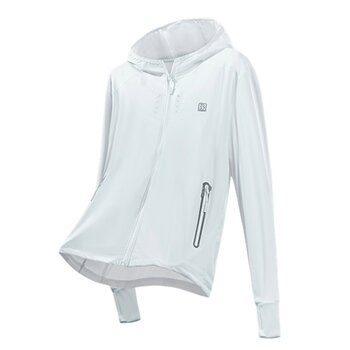 ONE BOY Sun Protection (UPF 50+) Cooling Functional Jacket for Men XL
Color Ivory (refer to product photo)
Size : XL
Keeping Up with ONE BOY!
For new concepts of daily wear
UPF 50+ high-efficiency sun protection, tested by SGS to have UPF50+ high-efficiency sun protection, provides permanent and effective defense against ultraviolet rays, extending the time your skin is protected from sunburn. The material is moisture-wicking, quick-drying, and cooling function. Even in hot and humid summer days, it can keep you dry and non-sticky.
Product features:
-UPF 50+ sun protection
-Instant cooling sensation and refreshing
-Lowering the perceived temperature
-Breathable and comfortable
-Soft and skin-friendly
-High elasticity & stretchability fabric
-Safety reflective design Material: 76% Polyamide Fiber, 24% Elastic Fiber
COO of Materials : China
Washing Instructions :
-Do not tumble dry.
-Do not use bleach-containing laundry products.
-Recommend to hand wash. Dark and light-colored garments should be washed separately.
-The washing water temperature must not exceed 30 degrees Celsius.
R$
248
Frete Grátis, Incluindo taxas

Adicionar ao Carrinho
Garantia de produtos 100% GENUÍNOS
FRETE GRÁTIS por Envio Registrado com rastreamento. Entregas para o Brasil normalmente levam de 7-14 dias. Por favor, note que o tempo de desembaraço aduaneiro.

Normalmente leva 1-2 semanas para a Alfândega Brasileira inspecionar e liberar pacotes de seus escritórios. Algumas vezes isso pode demorar mais se houver muitos pacotes na fila.



Garantia de 30 dias ou dinheiro de volta. Se houver qualquer problema com os produtos, por favor, nos encaminhe um e-mail e nós iremos providenciar uma solução para você, nós garantimos.
| | |
| --- | --- |
| Código de Barras / UPC/UPC | 33187843171 |
| Categoria | Mart |
| Marca | ONE BOY |
| Linha do Produto | |
| Tamanho | XL |
Nós usamos o PayPal para processar os pagamento de forma segura, incluindo os pagamentos com cartão de crédito.

Sua compra é protegida pela garantia de compra do Paypal. Se você não receber os produtos que pediu, você pode solicitar seu dinheiro de volta.
Atualmente não há avaliações. Seja o primeiro a avaliar este produto!