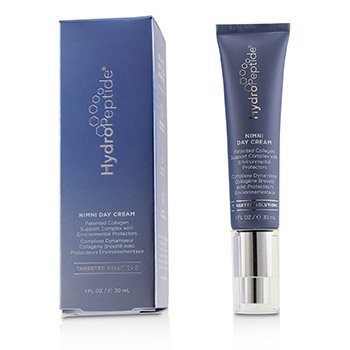 HydroPeptide Nimni Day Cream Patented Collagen Support Complex With Environmental Protectors 30ml/1oz
Avaliação:
A collagen-boosting & protective day cream
Boasts revolutionary NimniTM Technology with an exclusive, patented amino acid complex
Helps optimize collagen production to improve skin fullness & elasticity
Infused with key antioxidants to provide environmental protection for daytime use
Minimizes the look of fine lines & wrinkles
Unveils a firmer, smoother & younger looking complexion
Perfect for all skin types
Free of gluten, parabens, phthalates & sulfates
R$
638
Frete Grátis, Incluindo taxas

Adicionar ao Carrinho
Garantia de produtos 100% GENUÍNOS
FRETE GRÁTIS por Envio Registrado com rastreamento. Entregas para o Brasil normalmente levam de 7-14 dias. Por favor, note que o tempo de desembaraço aduaneiro.

Normalmente leva 1-2 semanas para a Alfândega Brasileira inspecionar e liberar pacotes de seus escritórios. Algumas vezes isso pode demorar mais se houver muitos pacotes na fila.

Se houver taxas de imposto de importação para seu pedido, nós reembolsaremos as taxas para você. Não há custo extra para você.


Garantia de 30 dias ou dinheiro de volta. Se houver qualquer problema com os produtos, por favor, nos encaminhe um e-mail e nós iremos providenciar uma solução para você, nós garantimos.
Nós usamos o PayPal para processar os pagamento de forma segura, incluindo os pagamentos com cartão de crédito.

Sua compra é protegida pela garantia de compra do Paypal. Se você não receber os produtos que pediu, você pode solicitar seu dinheiro de volta.
Esse creme é fantástico! Agora sinto que a minha pele está mais firme e elegante. Recomendo