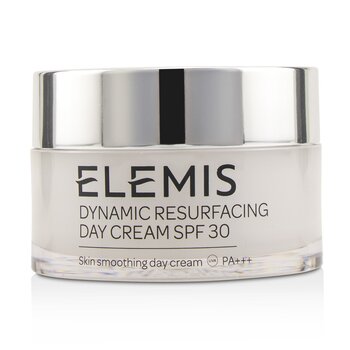 Elemis Dynamic Resurfacing Day Cream SPF 30 PA+++ 50ml/1.6oz
Avaliação:
A skin-smoothing & re-surfacing day moisturizer
Powered by patented Tri-Enzyme technology to gently exfoliate & re-surface skin
Promotes skin's natural cell renewal process while reducing signs of aging
Contains White Truffle & Raspberry seed oil for hydrating benefits
Infused with a micronized sunscreen to offer broad-spectrum UVA & UVB protection
Skin appears fresher, smoother, more even & feels more comfortable

Adicionar ao Carrinho
Garantia de produtos 100% GENUÍNOS
FRETE GRÁTIS por Envio Registrado com rastreamento. Entregas para o Brasil normalmente levam de 7-14 dias. Por favor, note que o tempo de desembaraço aduaneiro.

Normalmente leva 1-2 semanas para a Alfândega Brasileira inspecionar e liberar pacotes de seus escritórios. Algumas vezes isso pode demorar mais se houver muitos pacotes na fila.

Nota importante a respeito das taxas aduaneiras. Por favor, note que nossos preços são os mais baixos possíveis. Nós não podemos reembolsar nenhuma taxa aduaneira.

Garantia de 30 dias ou dinheiro de volta. Se houver qualquer problema com os produtos, por favor, nos encaminhe um e-mail e nós iremos providenciar uma solução para você, nós garantimos.
| | |
| --- | --- |
| Código de Barras / UPC/UPC | 641628501410 |
| Categoria | Skincare |
| Marca | Elemis |
| Linha do Produto | Dynamic Resurfacing |
| Tamanho | 50ml/1.6oz |
Nós usamos o PayPal para processar os pagamento de forma segura, incluindo os pagamentos com cartão de crédito.

Sua compra é protegida pela garantia de compra do Paypal. Se você não receber os produtos que pediu, você pode solicitar seu dinheiro de volta.
5 estrelas! O que mais adoro nesse creme é que ele deixa a pele super hidratada, macia e confortável durante o dia todo. Recomendo.