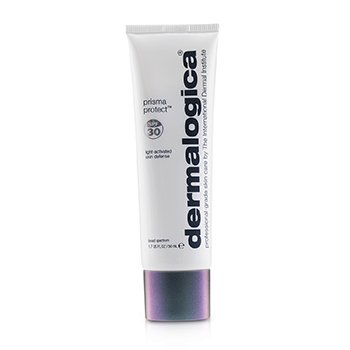 Dermalogica Prisma Protect SPF 30 50ml/1.7oz
Avaliação:
A light-activated multi-tasking facial moisturizer
Harnesses Intelligent Drone Technology which is activated by visible light
Helps boost skin's natural luminosity
Breakthrough antioxidant technology helps protect skin against pollution
Provides broad-spectrum defense while preventing future signs of skin damage
Contains a bio-ferment from sage to maintain an even skin tone
Infused with advanced moisture magnets to deliver all-day hydration
Keeps skin soft, smooth & radiant
Free of parabens, gluten, cruelty, artificial colors & fragrances
Garantia de produtos 100% GENUÍNOS
FRETE GRÁTIS por Envio Registrado com rastreamento. Entregas para o Brasil normalmente levam de 7-14 dias. Por favor, note que o tempo de desembaraço aduaneiro.

Normalmente leva 1-2 semanas para a Alfândega Brasileira inspecionar e liberar pacotes de seus escritórios. Algumas vezes isso pode demorar mais se houver muitos pacotes na fila.

Se houver taxas de imposto de importação para seu pedido, nós reembolsaremos as taxas para você. Não há custo extra para você.


Garantia de 30 dias ou dinheiro de volta. Se houver qualquer problema com os produtos, por favor, nos encaminhe um e-mail e nós iremos providenciar uma solução para você, nós garantimos.
| | |
| --- | --- |
| Código de Barras / UPC/UPC | 666151030671 |
| Categoria | Skincare |
| Marca | Dermalogica |
| Linha do Produto | |
| Tamanho | 50ml/1.7oz |
Nós usamos o PayPal para processar os pagamento de forma segura, incluindo os pagamentos com cartão de crédito.

Sua compra é protegida pela garantia de compra do Paypal. Se você não receber os produtos que pediu, você pode solicitar seu dinheiro de volta.
Este produto é muito leve na pele e não se sente pesado. Eu uso isso como primer antes da minha maquiagem também e funciona muito bem. O cheiro é ótimo e o produto é super hidratante.