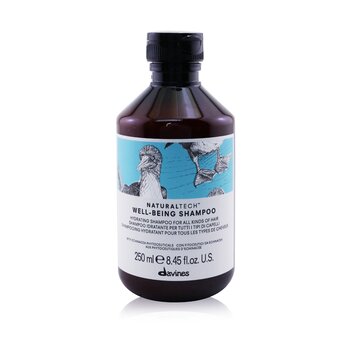 Davines Natural Tech Well-Being Shampoo 250ml/8.45oz
Avaliação:
An award-winning aroma-therapeutic shampoo
Formulated with gentle surfactants to delicately cleanse hair
Rich in Vitamin C for a strong anti-oxidant & anti-inflammatory action
Contains essential oils of clove, nutmeg & sandalwood for soothing & stimulating benefits
Provides an overall sense of well-being
Leaves hair soft, smooth & scalp invigorated
Perfect for all hair types
To use: Gently massage a moderate amount into damp hair, leave on for a few minutes & rinse well. Repeat application if necessary

Adicionar ao Carrinho
Garantia de produtos 100% GENUÍNOS
FRETE GRÁTIS por Envio Registrado com rastreamento. Entregas para o Brasil normalmente levam de 7-14 dias. Por favor, note que o tempo de desembaraço aduaneiro.

Normalmente leva 1-2 semanas para a Alfândega Brasileira inspecionar e liberar pacotes de seus escritórios. Algumas vezes isso pode demorar mais se houver muitos pacotes na fila.

Nota importante a respeito das taxas aduaneiras. Por favor, note que nossos preços são os mais baixos possíveis. Nós não podemos reembolsar nenhuma taxa aduaneira.

Garantia de 30 dias ou dinheiro de volta. Se houver qualquer problema com os produtos, por favor, nos encaminhe um e-mail e nós iremos providenciar uma solução para você, nós garantimos.
| | |
| --- | --- |
| Código de Barras / UPC/UPC | 8004608256502 |
| Categoria | Hair Care |
| Marca | Davines |
| Linha do Produto | Natural Tech |
| Tamanho | 250ml/8.45oz |
Nós usamos o PayPal para processar os pagamento de forma segura, incluindo os pagamentos com cartão de crédito.

Sua compra é protegida pela garantia de compra do Paypal. Se você não receber os produtos que pediu, você pode solicitar seu dinheiro de volta.
Um produto bem natural e leve que limpa o cabelo de forma suave.