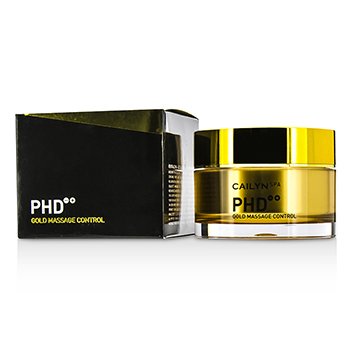 Cailyn PHD Gold Massage Control 50ml/1.7oz
Avaliação:
A premium & effective revitalizing massage treatment
Features an ultra-luxurious gel formula that transforms into water upon application
Contains 24k gold for powerful rejuvenating & detoxifying effects
Blended with advanced peptides to stimulate collagen production & enhance skin elasticity
Reduces the appearance of fine lines & wrinklesLoaded with sodium hyaluronate to provide a boost of moisture
Effectively clears pores, minimizes excess oil & refines skin texture
Unveils a smoother, younger & healthier looking complexion with smaller pores

Adicionar ao Carrinho
Garantia de produtos 100% GENUÍNOS
FRETE GRÁTIS por Envio Registrado com rastreamento. Entregas para o Brasil normalmente levam de 7-14 dias. Por favor, note que o tempo de desembaraço aduaneiro.

Normalmente leva 1-2 semanas para a Alfândega Brasileira inspecionar e liberar pacotes de seus escritórios. Algumas vezes isso pode demorar mais se houver muitos pacotes na fila.

Nota importante a respeito das taxas aduaneiras. Por favor, note que nossos preços são os mais baixos possíveis. Nós não podemos reembolsar nenhuma taxa aduaneira.

Garantia de 30 dias ou dinheiro de volta. Se houver qualquer problema com os produtos, por favor, nos encaminhe um e-mail e nós iremos providenciar uma solução para você, nós garantimos.
| | |
| --- | --- |
| Código de Barras / UPC/UPC | 812772013900 |
| Categoria | Skincare |
| Marca | Cailyn |
| Linha do Produto | Night Care |
| Tamanho | 50ml/1.7oz |
Nós usamos o PayPal para processar os pagamento de forma segura, incluindo os pagamentos com cartão de crédito.

Sua compra é protegida pela garantia de compra do Paypal. Se você não receber os produtos que pediu, você pode solicitar seu dinheiro de volta.
Estou usando esse creme todas as noites faz já algum tempo, e estou adorando os resultados, ele deixa a sua pele rejuvenescida, firme e radiante. NOTA 5