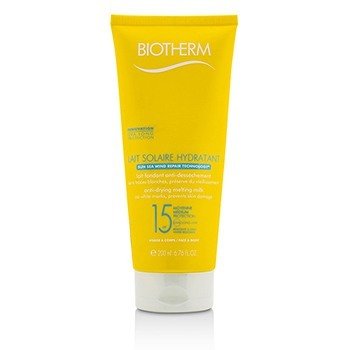 Biotherm Lait Solaire Hydratant Anti-Drying Melting Milk SPF 15 - For Face & Body 200ml/6.76ml
Avaliação:
A hydrating sunscreen lotion for face & body
Features a soft milky texture that dissolves quickly into skin
Contains Vitamin E & pure thermal plankton for soothing & regenerating benefits
Infused with a photo-stable broad-spectrum filter to absorb UVA/UVB
Deliciously scented with a refreshing citrus aroma
Leaves body skin hydrated & comfortable
To use: Apply to skin just before sun exposure. Re-apply frequently & generously to maintain protection
Garantia de produtos 100% GENUÍNOS
FRETE GRÁTIS por Envio Registrado com rastreamento. Entregas para o Brasil normalmente levam de 7-14 dias. Por favor, note que o tempo de desembaraço aduaneiro.

Normalmente leva 1-2 semanas para a Alfândega Brasileira inspecionar e liberar pacotes de seus escritórios. Algumas vezes isso pode demorar mais se houver muitos pacotes na fila.

Se houver taxas de imposto de importação para seu pedido, nós reembolsaremos as taxas para você. Não há custo extra para você.


Garantia de 30 dias ou dinheiro de volta. Se houver qualquer problema com os produtos, por favor, nos encaminhe um e-mail e nós iremos providenciar uma solução para você, nós garantimos.
Nós usamos o PayPal para processar os pagamento de forma segura, incluindo os pagamentos com cartão de crédito.

Sua compra é protegida pela garantia de compra do Paypal. Se você não receber os produtos que pediu, você pode solicitar seu dinheiro de volta.
Estou gostando muito desse protetor, a sua textura é fácil de aplicar, de rápida absorção e deixa a pele super hidratada e com uma camada protetora. 5 estrelas.