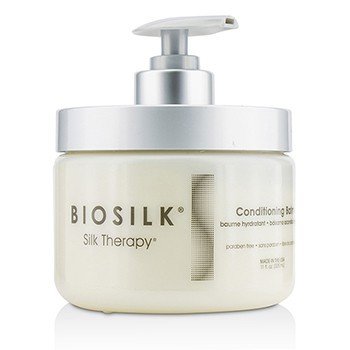 BioSilk Silk Therapy Conditioning Balm 325ml/11oz
Avaliação:
A deeply conditioning hair treatment
Formulated with silk proteins to strengthen weak strands
Keeps hair in optimal condition even after chemical treatments
Nourishes & replenishes moisture to each hair strand
Unveils smoother, bouncier, shinier, stronger & more manageable hair
Great for overly processed, dry or damaged hair
Paraben-free
To use: After shampooing, towel dry hair to remove excess moisture. Apply to hair & distribute evenly from mid-shaft to hair ends. Leave on for 3-5 minutes & rinse well
R$
241
Frete Grátis, Incluindo taxas

Adicionar ao Carrinho
Garantia de produtos 100% GENUÍNOS
FRETE GRÁTIS por Envio Registrado com rastreamento. Entregas para o Brasil normalmente levam de 7-14 dias. Por favor, note que o tempo de desembaraço aduaneiro.

Normalmente leva 1-2 semanas para a Alfândega Brasileira inspecionar e liberar pacotes de seus escritórios. Algumas vezes isso pode demorar mais se houver muitos pacotes na fila.

Se houver taxas de imposto de importação para seu pedido, nós reembolsaremos as taxas para você. Não há custo extra para você.


Garantia de 30 dias ou dinheiro de volta. Se houver qualquer problema com os produtos, por favor, nos encaminhe um e-mail e nós iremos providenciar uma solução para você, nós garantimos.
| | |
| --- | --- |
| Código de Barras / UPC/UPC | 633911772386 |
| Categoria | Hair Care |
| Marca | BioSilk |
| Linha do Produto | Silk Therapy |
| Tamanho | 325ml/11oz |
Nós usamos o PayPal para processar os pagamento de forma segura, incluindo os pagamentos com cartão de crédito.

Sua compra é protegida pela garantia de compra do Paypal. Se você não receber os produtos que pediu, você pode solicitar seu dinheiro de volta.
Muito bom! O cabelo fica super hidratado, desde a primeira aplicação. Recomendo