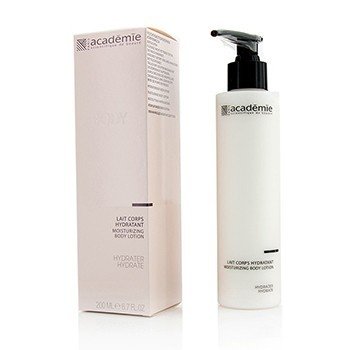 Académie Moisturizing Body Lotion 200ml/6.7oz
Avaliação:
A long-lasting body moisturizer
Features a fluid & non-greasy texture that penetrates instantly
Concentrated with active ingredients including A.H.A. complex & Vitamin E
Provides instant & long-lasting moisture all day long
Body skin appears softer, smoother & soothed

Adicionar ao Carrinho
Garantia de produtos 100% GENUÍNOS
FRETE GRÁTIS por Envio Registrado com rastreamento. Entregas para o Brasil normalmente levam de 7-14 dias. Por favor, note que o tempo de desembaraço aduaneiro.

Normalmente leva 1-2 semanas para a Alfândega Brasileira inspecionar e liberar pacotes de seus escritórios. Algumas vezes isso pode demorar mais se houver muitos pacotes na fila.

Nota importante a respeito das taxas aduaneiras. Por favor, note que nossos preços são os mais baixos possíveis. Nós não podemos reembolsar nenhuma taxa aduaneira.

Garantia de 30 dias ou dinheiro de volta. Se houver qualquer problema com os produtos, por favor, nos encaminhe um e-mail e nós iremos providenciar uma solução para você, nós garantimos.
Nós usamos o PayPal para processar os pagamento de forma segura, incluindo os pagamentos com cartão de crédito.

Sua compra é protegida pela garantia de compra do Paypal. Se você não receber os produtos que pediu, você pode solicitar seu dinheiro de volta.
Perfeito. Muito fácil de aplicar por todo o corpo, de rápida absorção e deixa a pele suave e sedosa. Recomendo