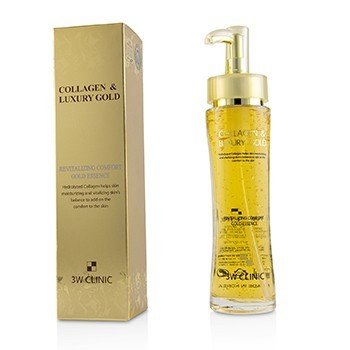 3W Clinic Collagen & Luxury Gold Revitalizing Comfort Gold Essence 150ml/5.07oz
Avaliação:
A supreme revitalizing facial essence
Features a lightweight, ultra-soft & refreshing texture
Formulated with pure gold to moisturize & improve coarse skin
Contains Hydrolyzed Collagen to revitalize skin & prevent moisture loss
Restores balance & comfort to skin
Replenishes skin with plentiful vitamins to prevent oxidative stress
Unveils a firmer, softer, smoother, fresher, more elastic & younger looking complexion
R$
197
Frete Grátis, Incluindo taxas

Adicionar ao Carrinho
Garantia de produtos 100% GENUÍNOS
FRETE GRÁTIS por Envio Registrado com rastreamento. Entregas para o Brasil normalmente levam de 7-14 dias. Por favor, note que o tempo de desembaraço aduaneiro.

Normalmente leva 1-2 semanas para a Alfândega Brasileira inspecionar e liberar pacotes de seus escritórios. Algumas vezes isso pode demorar mais se houver muitos pacotes na fila.

Se houver taxas de imposto de importação para seu pedido, nós reembolsaremos as taxas para você. Não há custo extra para você.


Garantia de 30 dias ou dinheiro de volta. Se houver qualquer problema com os produtos, por favor, nos encaminhe um e-mail e nós iremos providenciar uma solução para você, nós garantimos.
| | |
| --- | --- |
| Código de Barras / UPC/UPC | 8809563060801 |
| Categoria | Skincare |
| Marca | 3W Clinic |
| Linha do Produto | |
| Tamanho | 150ml/5.07oz |
Nós usamos o PayPal para processar os pagamento de forma segura, incluindo os pagamentos com cartão de crédito.

Sua compra é protegida pela garantia de compra do Paypal. Se você não receber os produtos que pediu, você pode solicitar seu dinheiro de volta.
5 estrelas! Estou usando faz já algum tempo, e os resultados são fantásticos. A minha pele está regenerada, mais firme e sem sinais de envelhecimento. Perfeito.